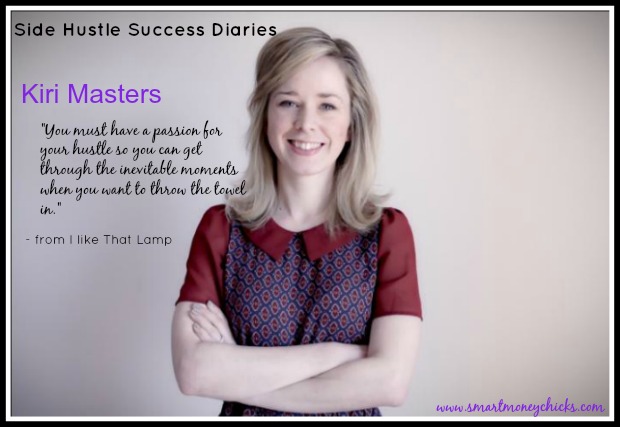 After being unable to find stylish and affordable lamps, Kiri created her own and was able to start her side hustle as a result to help others.
Tell me a little bit about how you got started?
I started making my own lamps when I couldn't find stylish and affordable lighting for my new apartment. When I realized that sourcing the components could be difficult and confusing, I started developing DIY lamp and lampshade kits. My flagship product is the first DIY lampshade kit available in the North American market.
Why did you start your Side Business?
It seemed that while many people were interested in making their own lighting, there were limited resources online that allowed people how to make lamps that suited their specifications. I decided to take the intimidation out of DIY lighting projects. From a personal perspective, I have always wanted to run my own business. This is my first significant attempt and building a company from scratch.
How long have you been doing this?
I've had my online store for 8 months. But I have been planning it for more than a year!
How do you make money (Hourly, By Project, Retainer or One Time Fee)?
I sell kits and accessories in my online store and through other sites like Etsy, The Grommet, Fair Goods and Amazon. I also teach live classes to students in New York City.
What Areas of Marketing have worked best for you, for instance, Referrals, Social Media, etc?
I have always been geared towards having a strong content marketing proposition. As such I supplement my e-commerce store with tutorials and how-to's and blog posts. Organic search traffic and Pins to my tutorials are my top driver of traffic. In terms of social media, Pinterest has by far been the most effective platform. Being a cross between a craft supply and home decor product, Pinterest is where my target audience gets DIY project and home decorating ideas. Finally, connecting with craft and design bloggers has also led to more high-impact engagement with potential customers.
When do you find the time to work on your side businesses with a full time job and other obligations?
There's not getting around it – if you have a side hustle and a full time job, you will be working more hours than most of your friends and family. You might feel anti-social or like a workaholic. That's why you must have a passion for your hustle so you can get through the inevitable moments when you want to throw the towel in.
Did you set any business Goals when you started?
I wanted to have the company cash flow positive within 12 months, but that was the only financial goal I set. My primary goal has always been to learn how to be an effective business owner.
What has been the Best thing that has Happened in your Side Business?
I spent a lot of time and money to attend a craft fair, which resulted in practically no sales. I was terribly disheartened at the time. However, following the event, I was contacted by 3 online stores that expressed interest in carrying my kits. It really illustrated to me that nothing is a waste of time unless you learn nothing from it.
What advice would you give someone just starting out?
Strike a balance between the two dominating schools of thought: "follow your passion" vs "find a profitable niche". You can't have one without the other. Doing something just for the money will not get you through those difficult moments where you're exhausted and disheartened. Doing something just because you're passionate about it might not allow you to pay the bills. You must find something that you care about which also has an opportunity for monetization.
If you were starting all over again, what would you do differently?
Nothing. Even the countless hours of research, website tweaking, and business plan writing which were eventually re-written or thrown out were part of a process I had to go through to get to where I am today. Again, no experience is worthless unless you learned nothing from it.
How can people find out more about your Business?
Please check out my tutorials and kits at www.ilikethatlamp.com You can also connect with me on facebook and twitter.