The Official Bio
Our founder, Andrea Amir, has over 13 years of experience helping people reach their financial goals as a realtor, mortgage banker and educator. After experiencing her very own financial hardship — filing bankruptcy two times in the same year because she took misguided advice from a "professional" — she realized that with a solid grasp of financial literacy skills, a little planning, and discipline, such drastic measures weren't needed at all. As a Certified Personal Finance Educator and Certified Housing Counselor, Andrea now spends her time maintaining financial success and educating others as well as helping them avoid financial issues.
Let's Connect: 
Send me an email: Reachus (at) Smartmoneychicks.co,
Twitter: @smartmoneychick
Linkedin: Andrea Amir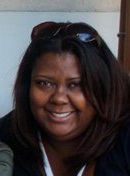 The Direct From Me Not So Official Polished Version:
Growing up in Las Vegas gives you a pretty unique experience with money. My mom worked in a casino receiving tips every single day.
 This certainly had an influence in the way I looked at money and developed my money beliefs. For instance with her money came every day.  My brother and I didn't really grow up having to wait for payday to come to get what we wanted.
 As I grew up, I had a couple of great jobs where I made really great money. I didn't have any dependents or huge responsibilities other than going to school, I was able to kind of spend my money how I wanted to. I didn't really save nor was I taught to save.  And my parents, I don't necessarily think they saved or if they did, they didn't really share this with us. Things went really great for a very long time. Then I bought a brand new car.  At the time, the dealer said we think this is too much car for you. So my grandfather cosigned for me, and that is when life got real.
A few years, a cross country drive, several repair bills and a pseudo job later. I had depleted any money I saved up.I needed a new car so I bought one. Now I have two car payments. I'm not really sure how I thought about how I thought I would pay for this new car.  I think I was internally optimistic, but it does go back to that not having to wait until payday to get money mentality. Something will happen where I will have the money.  Yea, this time it didn't actually work out for me.
I didn't really know what to do at this point. Two car payments, a job that doesn't pay on a regular basis.  A family friend who was an attorney suggested that I file bankruptcy to keep the new car and get rid of the car that was not working. I paid attention to what she said; I trusted her and filed bankruptcy.  I didn't do any due diligence on my own. Didn't stop to think if bankruptcy was the right action. I just did what she suggested, no questions.
Well, then she filed the bankruptcy wrong. Turns out she was new at this bankruptcy thing. I mean I laugh at it now but boy, I was not laughing then.  So the bankruptcy was filed wrong, which meant I had to go back and file again to correct the first bankruptcy.  So needless to say, I  eventually paid that car off, gave back the other car.  It was a huge thing, completely ruined my credit. I'm still repairing from that decision today and I'm still driving that same car. It was a valuable lesson.
Oh, one more thing that happened back then is TAXES. A perk of living in Nevada is no state taxes. Turns out most other states do have state taxes including GA. As you can imagine I had this huge tax bill from Georgia but then also a huge federal tax bill that comes from being self-employed. I'll be paying off taxes for the rest of my life, or at least it feels that way.
This is why I started Smart Money Chicks. All of those things that happened could have been avoided.  I didn't need to file bankruptcy; I definitely didn't need to file it twice.  And if I was going to file bankruptcy, I probably should have went to more than one person.  I could have gotten two jobs or a different job, saved money and paid off the other car or worked out an arrangement with the company.  They were probably willing to work out something with me, but I didn't know what questions to ask.  
I discovered that everyone has their own money story. Growing up, the way money was handled in my home and the way that I looked at it influenced all the decisions I made. That is my money story and it continues to unfold.
So am I in a position now where I am perfect with money?  Absolutely not!  It's a constant learning process. You constantly learn new things about yourself; you learn new things about money.  What I did learn is that the mistakes that I made could have been avoided. I do my best avoid those mistakes and make new ones.
I went back to school, became certified as a financial educator.  I've taken all the classes for the CFP designation. Also I am a Federal and State Certified Housing Counselor. I've a licensed Real Estate agent and Insurance agent for over 15 years. Now I have the credentials and the experience. I know what to do and definitely what not to do.
In addition to how complex dealing with money can be, women have different challenges. I thought Smart Money Chicks™ was the perfect place to start. If I can help one woman understand what's going on with her finances, help her feel comfortable and confident enough to make the best decisions on her finances based upon what she knows and what is right for her, then I feel like I've done my job. 
That's me, Andrea the Founder of Smart Money Chicks. Welcome to our Smart Money Chicks™ Community. I hope that we are all Smart Money Chicks™ or on our way to becoming Smart Money Chicks.  
Let's Connect: 
Send me an email: reachus (at) smartmoneychicks.com
Twitter: @smartmoneychick
Linkedin: Andrea Amir