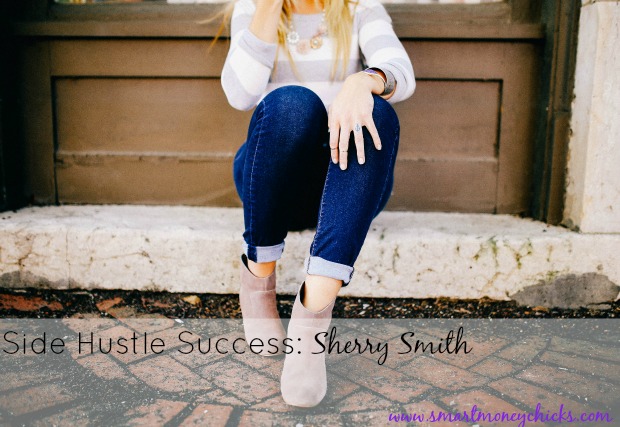 Getting creative with her finances, Sherry took her bargain hunting skills as a way to start a side hustle.
How did you get started?
My love affair with bargain hunting at places like flea markets and garage sales started early. Eventually it became obvious that I was really good at it. And I love fashion – I actually got  my undergraduate degree in Fashion Design, and although I didn't stay in the industry, I never lost my passion for gorgeous clothing nor my belief that dressing fabulously need not break the bank.
My transition from shopper to vendor happened somewhat organically. I'd established a reputation for being a savvy shopper with a talent for finding the amazing things, and even had a couple instances where friends put me in the role of personal stylist. All it took was a major life change to push it from hobby to hustle.
How long have you been doing this?
I returned from my Parisian grad school experience in 2006 and found my shiny new Masters degree wasn't necessarily a ticket to fabulous high-paying career. I had 40 grand in credit card debt, and the special offers I'd taken advantage of to borrow that that at low interest rates were coming to a close. I needed a full-on second income. As I was only working part time and that was from home, I had the time and motivation to really treat reselling as a business.
How do you earn money?
Through a lot of trial and error, I've settled on a strategy around selling fewer things at higher profits. It only costs $.50 to list a fixed-price item on eBay for 30 days, so – and I do have to remind myself of this frequently – it's cheaper to list something for a year than to drop the price $10.00. I have no steady stream of inventory. I hand-pick every item I sell, and beyond designer, style and condition, each item has to  have a low enough cost that I can offer it a true bargain price. I also maintain a sense of ethics about the whole thing. I'm careful not to hoard or be greedy or do other things some people with a similar hustle do that irks people who are shopping for themselves.
How do you get new clients?
Traffic is really the reason I stick with eBay despite its tightening rules and increasing costs. And as far as selling is concerned, I've considered being proactive about finding people (think stylists and models) who might have a bunch of designer merch they don't use for more consignment type of deals, but as of now, I've only branched out enough to sell on behalf of friends. And that's generally more a favor than a profit-making venture.
When do you work on your side hustle?
For the last year and a half, I've been at a full time, desk job, which has made it a bit harder to fit my side business into my schedule, but I'm making it work. I tend to shop on weekends with the occasional foray after work. Photos are better when taken in as natural light as possible, so every couple of weeks I'll just spend an entire Saturday or Sunday day shooting photos.  Writing descriptions, posting listings, packaging…all this gets done in the evening or early morning.
Do you have tips or resources for a person who just started a side hustle or wants to start one?
My best advice is to pick something you'd do even if you didn't make money off of it. If you're already stressed from your main job, adding a second source of stress seems counter-productive, even if it does mean extra money.
If you want to learn step-by-step how to get your own Side Hustle going my eBook Start a Side Hustle With Skills You Already Have breaks it down for you, making it simple to get started on your own Side Hustle today.