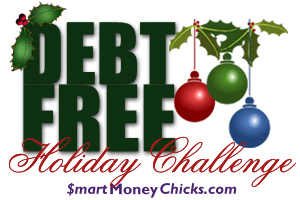 Yes, we are officially less than 100 days away from Christmas. It is hard to believe but it is so. As the leafs start to turn and our nights are cooler, you should start thinking of the Holidays if you haven't already. Last year the average person planned on spending $707 on gifts, decorations, meals and all the fixings that come with the Holiday Season. Many of those people some of us included used credit cards for these expenses.
This Year we Challenge you to have a Debt Free Holiday Season– We know it is possible and we are going to help you. Each week until the end of the year, we will offer you tips and resources that will aid you in having a Debt Free Holiday Season.
Are you in?
Step 1: Sign up for the Debt Free Holiday Challenge, we will then send you a Nifty Holiday Planning Guide that includes a schedule, budget and Gift Spreadsheet.
Step 2: Well, that's is all for now, each week we will tackle (in a good way) another step to ensure our Holidays will not leave us with Credit Card Blues…

And we are off!