With Skills You Already Have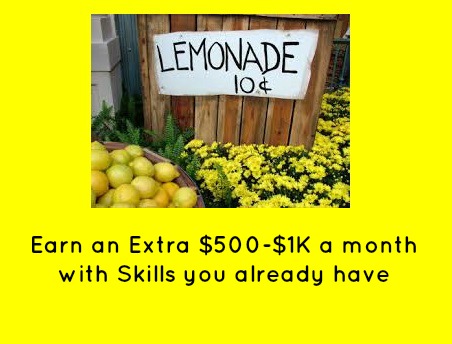 Are you living Paycheck to Paycheck?

Are you looking for a way to Get Out of Debt?
Do you want to start an Emergency Fund?

Would you like to take a Vacation but do not have the Money?
Then a Side Hustle is exactly what you need. Their are several reasons for a person to have a Side Hustle, It allows you to break the cycle of living Paycheck to Paycheck It helps you build your Emergency Fund. It gives you the money to Get Out of Debt and much much more.
What is a Side Hustle you Ask?
A Side Hustle is often referred to as A Side Business or Moonlighting, it is like a part time job but you enjoy doing it, Most likely it is similar to your current trade or perhaps it is your passion. Not sure how to start?
We would like to introduce you to Earn an Extra $500-$1000 a Month with a Side Hustle with Skills you already have
Join us for
Earn an Extra $500-$1000 a month with a Side Hustle
Over the next 4 Weeks we go Step by Step into a creating a Side Hustle Perfect for you, Take a look at the Details:
Class 1, July 18th- Focus on Clarity
Finding Your Why
Identifying Skill or Talent that is right
Clarifying your Unfair Advantage
Class 2, July 25th- Focus Online
Creating your Home base
Establishing your Expertise
No Headache Website Creation
Class 3, August 1st- Focus on Money
Setting the Correct Price Model
Learn the Art of Selling without feeling like you need a bath
Mechanics of Getting Paid
Class 4, August 8th- Focus on Action
Open for Business
Side Hustle Social Media Action Plan
Fastest Path to $500
Plus Much More!
Are You Ready To Earn an Extra $500-$1000 with Skills You Already Have?
Your Investment:
Only $27*
*Yes, Only $27. We know it is extremely low, we are doing that for a couple of reasons. First, this is a new format for us and we will ask for a little feedback. Also, We know that the summer is a critical time for most. Quite a bit of money going out and not enough coming in so We want to help. One thing, we can promise you is that it will never ever ever be this price again;)

What else is Included?

Complete MP3 Recordings and Transcripts of the Course: This way if you cannot make the call, you will not miss out at all.
Downloadable Forms and Checklists
24/7 support
Private Access to a Special Side Hustle Community to get all your questions answered and support needed.
Are there Bonuses? Why Yes, I thought you would never ask.

Start A Side Hustle With Skills You Already Have Guide $47.00 Value
Step by Step Guide to Get You Started Earning Money $27.00 Value
1,000 Side Hustle Ideas(Yep, 1,000) $Priceless
The Best Entity to Make Money From Your Skills $17.00 Value

What Others Say:
*This Side Hustle gave me valuable information that you would easily pay hundreds of dollars to get by attending seminars and buying other books. I enjoyed reading about other ladies and seeing that I'm not the only person on this journey. It was motivating and helpful. It is great and informative book. Just another step in reaching my goal of financial independence. Thanks Smart Money Chicks- Michelle

*Andrea was both informative and personable. The other ladies who already had a "side hustle" contributed some very useful tips as well. Made me less afraid about pursuing my own side hustle. Since I started my Side Hustle, I have paid off 2 Credit Cards and Started a Savings Account – Nancy

*Very useful information for anyone looking to make extra money. She presented the information in a way that was easy to understand. – Lisa

*The How To Start A Side Hustle Guide was was both informative and personable. The examples of others who already had a "side hustle" contributed some very useful tips as well. Made me less afraid about pursuing my own side hustle. Thanks! – Cynthia
If you didn't know yet, Side Hustle is the New Black! Join Us