People admire beautiful homes on HGTV and you happen to know how they put those beautiful rooms together. In fact, you have a few ideas of your own on how to improve things even more.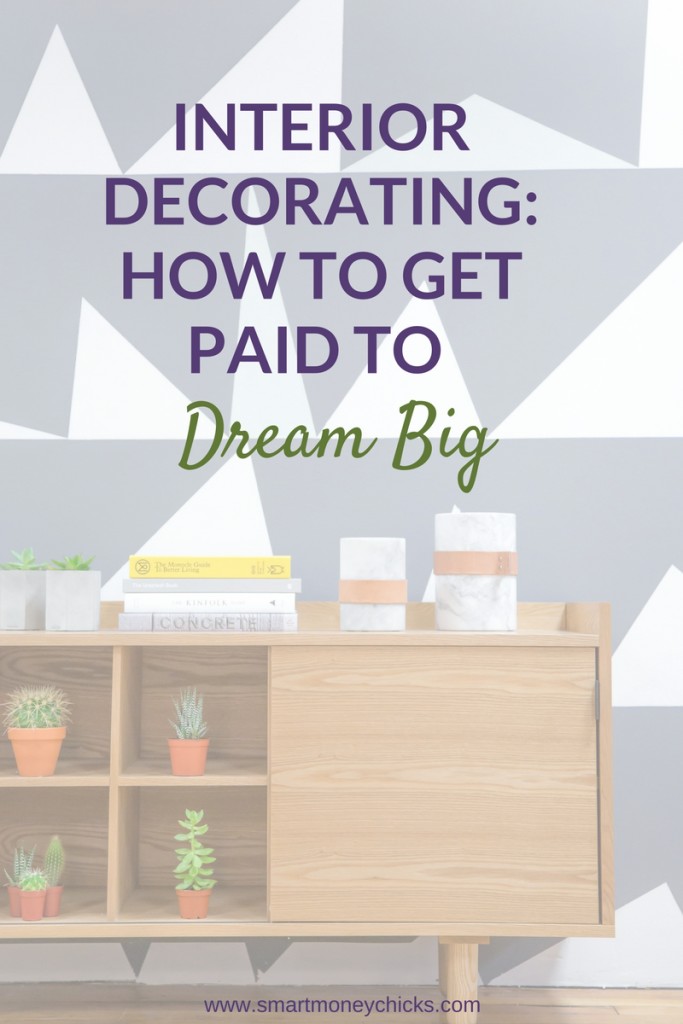 You've always had a knack for design for as long as you can remember. What's more, you've done your 10,000 hours studying everything you could about it. Besides sharing your ideas with your friends, you've put in your time as an unofficial armchair critic when watching home decorating shows.
Over the years, you've noticed what works and what doesn't quite match a space or a theme. However, for one reason or another, you never decided to become a professional Interior Decorator.
It's Not too Late
Well, it's not too late to engage in your missed career. We're not talking about getting a student loan and going back to school. There is actually a simpler, more direct way to turn people's existing homes into a haven with some ingenious touch ups like using wallpaper art in a dreary home office to make it sparkle with new life.
So what's this simple, direct path to success in following your path? It's called a side hustle.
In Defense of Side Hustles
If you're bored with your job but don't know how else to pay the bills, underemployed or unemployed, a side hustle is a perfect, low-risk way to awaken your inner entrepreneur.
Let's set aside the question about monetary returns for a moment. The real value of a side hustle is that it will allow you to express your unique gifts, test your strengths and hone your talents. If you stick with it long enough, you might even get to a point of mastery.
So the real reward of a side hustle is to get an opportunity to express your passion. Money is just a metric to measure how much people value your ideas.
What about the Money?
If you're doing a side hustle for the money, you're not doing it for the right reasons. Instead of focusing on creating beauty, you'll be spending most of your time learning how to sell.
The money may or may not be there. It depends on how good you get at what you do. Your side hustle may simply stay as a paid hobby or it might blossom into a full blown career because you've developed a high level of subject mastery that makes it easy to command a high figure. Many people who have started side hustles have ended up earning a handsome paycheck. However, the point is not to dwell on the money, but on your passion. The money will follow if you are true to your passion.
The Paradox about Money
Why does billionaire Warren Buffett still go to the office? Why doesn't he just spend the day playing golf? It's because he would rather figure out how to allocate massive amounts of money to buy promising companies than figure out how much he should tip the caddie for a boring day sauntering around a golf course.
Conversely, you're probably familiar with people who go all out for the money, but just don't seem to get far. It's because they are so focused on what they can get that they don't really emphasize what they need to do to give value.
5 Ways to Crush It as an Interior Decorator
Now that we've talked about your simple business model and stress-free attitude, let's cover some practical ways to become an excellent interior decorator.
Get inspired.

As an interior decorator, you'll be able to preview some beautiful homes. You can also get inspired by looking at pictures in magazines or on home decorating websites and try to recreate their magic in your client's homes. Another way to get inspired is by hanging out with others who love interior designing.

Experiment.

Instead of sticking to one particular style, the one you like the most, choose to learn about styles you're not that familiar with. Learn about the minimalist style, the classic style, the classic reinterpreted style, the rustic style, and so on. Think of yourself as a Picasso learning different art styles. Eventually, you'll come to the point where you invent Cubism. In other words, you're learning through contrast rather than fixating on what you like the most because you're familiar with it. Before you can develop your own distinct style, you'll have to replicate a lot of conventional ideas as you learn the business. However, as you continue to experiment, you'll get an intuition for what elements unify a theme.

Keep pictures of all your work

. Besides helping you build a portfolio and getting useful feedback from other interior designers, pictures will help you chart your progress. Your best work today may look rather bland compared to the work you'll do a year from now. However, you won't truly appreciate how far you've come if you don't keep track of your evolution. Positive reinforcement through contrast will make it easier to experience continuous and never ending progress.
Learn Basic Business Skills, too
Besides learning how to become an excellent interior decorator also work on developing business skills. If your side hustle does blow up into a full scale business and you'll know exactly how to take your success to the next level.
photo credit: Sophia Baboolal