**Editor Note: Today you meet Tahnya and all her awesomeness (well, we think she is awesome and pretty sure you will also). Tahnya is going to share her story of becoming debt free as well as  other helpful information that will help us all be the Smart Money Chicks we are. Join us in learning more about Tahnya and how we can improve our Financial Lives at the same time.**
I used to be in debt.  Yes it's true, I am a recovering debt-a-holic.  I was addicted to shopping, swiping my credit cards and living pay check to pay check.  Living on credit is stressful and it seems like a dark hole; if you've ever been in debt you know it's true.  But there is light at the end of the debt tunnel.  I am living proof that you can get into and out of debt.  All it takes is the courage to realize you have a  problem and the dedication to stick to a debt free plan. No matter how much debt you have everyone – yes everyone – can change their habits.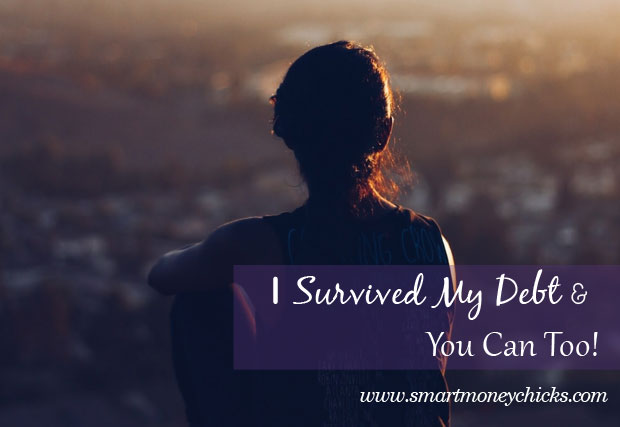 This is how it started
When you're in debt it can consume your life and take over all your priorities.  When I was at my lowest point, or should I say my highest point of outstanding balances, my debt was all I could think about.  I was 27 years old and over $50,000 in debt from student loans, credit cards and a brand new car.
One day I was sitting on my couch in tears because for the second month in a row I couldn't pay my rent.  Actually I could afford to pay my rent but I wouldn't be able to buy groceries or pay my cable bill at the same time.  That's what my life came to – choosing between shelter or food.  I was a university graduate with a full time job and I was drowning in debt.
And then it got worse
I was so depressed about my debt I needed to do something to cheer me up.  So what did I do?  Naturally I spent more money.  I enjoyed nights out with friends and vacations with my boyfriend.
I spent money every day on material things that I've come to learn don't matter.  I used my salary to make minimum payments on my credit cards and I used my credit cards to live.  But here's the thing about living pay check to pay check on credit – when your cards are maxed you can't live anymore.
But I'm a survivor
I finally decided to make a change.  That day when I was sitting on my couch in tears I decided  I didn't want to live in debt anymore and I started to take my life back from my debt.
I moved to a cheaper apartment, sold my car, got a second (and third) job and set up pre authorized payments onto my credit cards.  Once I got started paying off my debt was like rapid fire, all of a sudden I was in control.
I've come to learn that debt only has to be stressful if we let it be.  It took me a long time (five years of accumulating debt) and a lot of money  to learn this valuable lesson.  If we realize there is a problem and start paying off our debt we can learn from our mistakes and live a more prosperous (debt free) life.